Spectacular Websites
For your website to be successful, it should not only look good but also provide a seamless user experience for visitors.

This is why good website usability is about making it easy for visitors to find the information they need quickly and easily.

We include Digital Marketing thus you do not need to be a marketing expert to promote your products and services.

We do it for you !  We will build amazing websites that meet all the requirements and complement your brand on all digital channels.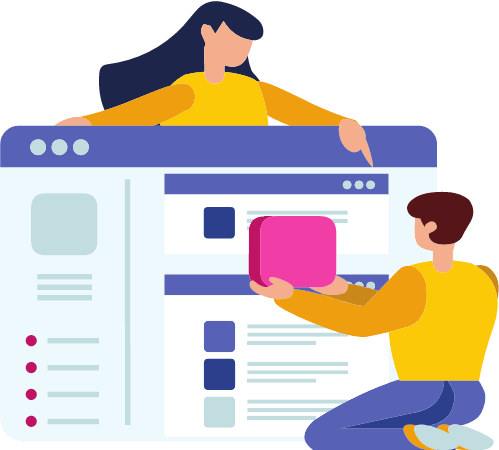 Basic WEB
Perfect as a business card on the Internet
1 free domain (1 Year)
1 Hosting (1 Year)
Up to 10 pages
Device sensitive
1 Sales Funnel
2 Landing Page
2 Video Mkgt Promotion (*)
SSL certificate
Basic SEO
Basic content MKTG
Basic maintenance (**)
Social Advertising (***)
Social integration
Include a language (****)
Training

(*) Video Marketing (2 minutes)
(**) 7 days
(***) Instagram and FB (5 days)
(****) English, Spanish, Ukrainian, Russian, Portuguese
(*****) 35% surcharge Swedish, German, Polish, French

PAYMENT METHODS
50% INITIAL+25%+25%
HOSTING
Disk space 1,000 megabytes
20 Email Accounts @ sudominio.cl
4 MYSQL databases
5 Subdomains
Monthly transfer 60,000 Megas
SSL Certificate Installed
PAYMENT METHODS
50% Acceptance
25% Delivery of Landing Pages
25% Website delivery
Standard WEB
Perfect for presenting the company's offer
1 free domain (1 Year)
1 Hosting (1 Year)
Up to 16 pages
Device sensitive
2 Sales Funnels
4 Landing Page
4 Video Mkgt Promotion (*)
SSL certificate
SEO Standard
Standard content MKTG
Standard Maintenance (**)
Social Advertising (***)
Social integration
Include a language (****)
Training

(*) Video Marketing (4 minutes)
(**) 14 days
(***) Instagram and FB (10 days)
(****) English, Spanish, Ukrainian, Russian, Portuguese
(*****) 35% surcharge for Swedish, German, Polish, French

PAYMENT METHODS
50% INITIAL +25% +25%
HOSTING
Disk space 2,000 megabytes
40 Email Accounts @ sudominio.cl
6 MYSQL databases
10 Subdomains
Monthly transfer 90,000 Megas
SSL Certificate Installed
PAYMENT METHODS
50% Acceptance
25% Delivery of Landing Pages
25% Website delivery
WEB Premium
Perfect for presenting company offers and services
1 free domain (1 Year)
1 Hosting (1 Year)
Up to 25 pages
Device sensitive
3 Sales Funnels
6 Landing Page
6 Video Mkgt Promotion (*)
1 Webinar Funnel
1 Webinar (100 people)
SEO Premium
Premium Maintenance (**)
Social Advertising (***)
Social integration
Include a language (****)
MKTG Premium Contents

(*) Video Marketing (6 minutes)
(**) 30 days
(***) Instagram and FB (15 days)
(****) English, Spanish, Ukrainian, Russian, Portuguese
(*****) 35% surcharge Swedish, German, Polish, French

PAYMENT METHODS
50% INITIAL +25%+25%
HOSTING
Disk space 3,000 megabytes
50 Email Accounts @ sudominio.cl
8 MYSQL databases
10 Subdomains
Monthly transfer 100,000 megabytes
SSL Certificate Installed
PAYMENT METHODS
50% Acceptance
25% Delivery of Landing Pages
25% Website delivery